Dear readers,
Because no celebratory female character list would be complete without Elizabeth Bennet, we're diving into the world of Jane Austen for this post.  Let me say straight off the bat that I haven't read all of her works yet (yet), but I have enjoyed the three I've had the pleasure to read so far: Pride and Prejudice, Sense and Sensibility, and Emma.  If you missed out on the first post of this series inspired by International Women's Day, check out The Women of Avatar!  Otherwise, without further ado…
The Ladies of Austen
Yes, like many Austenites Elizabeth Bennet would have to be my favorite of the Austen heroines I'm familiar with so far.  She's smart and witty to boot, honest, fiercely loyal to those she loves, and speaks her mind.  But seriously, that girl does not mince her words.  (See any proposal rejection for strongly worded evidence.)
Of course, she also managed to snag Mr. Darcy's heart without even trying…so there's also that.
I happened to stumble upon a BBC World Book Club podcast recording about Pride and Prejudice a couple of weeks ago (which, if you're a fan, you will definitely find interesting and entertaining), and one thing that stood out to me was a brilliant clip from an interview with Irish author Colm Tóibín on how the book works and depends upon the heroine's intelligence.  To paraphrase:
'It's when she's alone that the real work is done in the book…It's her solitude, and the quality of her solitude, that matter most in the book and gives her a sort of moral seriousness in the book.'
Austen often details Elizabeth's thoughts for the reader, which gives us superb insight into her intelligence and true self.  And from that, we fall in love with her character much the same way Mr. Darcy comes to fall in love with her.
So, yeah, points for Ms. Austen for blessing us with female characters with strength of mind. Another thing I admire about her novels and ability to tell a story is that there are so many quirks to each character, and even if they're not constantly in the action we get a good sense of who they are.  Take Jane Bennet, for example!  She's described as the prettiest of the daughters straight away, but we also come to learn that although she may not have Elizabeth's quick wit, she is the kinder and probably wiser of the two.
Or look at Charlotte, Lizzie's best friend who holds totally different views on marriage, love, and the practicalities of life, but who we know wouldn't be Elizabeth's friend if she weren't strong and intelligent in her own way.  We come to see that she's calculating and clever enough to manipulate a less than ideal situation (yes we're looking at you, Mr. Collins) to suit her as much as possible.  Boom, more points to Austen for giving us female characters who find strength in differences between them and form powerful relationships because of that.
That's certainly a driving point of Sense and Sensibility with sisters Elinor and Marianne.  Who doesn't appreciate understanding the values and downsides of two different personalities and approaches to life?  No one who has ever shared a living space with another person who wasn't a clone of themselves, surely.
When reading Sense and Sensibility, it's likely that you come to identify more with one sister over the other, as in, 'Why yes, Elinor is one tough lady for keeping her and everyone else's lives together.  Her sense is admirable because who in their right mind wears their heart on their sleeve?'  Not you.
You know exactly how to protect yourself – kill them with kindness, or at least polite indifference, and if or when some people (Lucy Steele) happen to end up with an idiot for a husband in the end?  Well, who looks the more foolish?  No, Elinor knows a thing or two about dignity and holding her own.
Side bar: Can we just admire this quote for a moment?  "Elinor agreed with it all, for she did not think he deserved the compliment of rational opposition."  I can just imagine the inner dialogue…
'Well done. If your intention here was to secure your place on the 'vain, ignorant fool' list, you succeeded marvelously.'
**Austenian burn may leave lingering stinging and unpleasant sensations. Apply knowledge, learning, and humility in generous amounts for best relief. (End sidebar)
Or perhaps you'd argue, 'Quite the contrary, Marianne's abandon for society's ill-conceived constructs is both brave and charming.  She doesn't give the time of day to people who don't deserve it – who the flim flam jam has time for that?'  But honestly, who has the time or patience to put up with useless pretense when you could be out there being yourself and loving everything about life?  You know for a fact that's just crazy.
But as you read you recognize that, sure, Marianne's enthusiasm while passionate and endearing at times can also be unwise, overly dramatic, and immature (not everyone has your passion for dead leaves, Marianne), and maybe Elinor's constant composure isn't always appreciated or easy for the people who truly care about her to navigate (you couldn't drop in one tiny mention about the whole Edward situation, Elinor?).
However both characters prove that sense and sensibility co-exist, that one is not better than the other because everybody is a mixture of both.  Elinor feels just as deeply as Marianne (sorry, hipster Marianne), and Marianne learns how to exercise more judgement.  Despite any greater affinity toward sense or sensibility, we can relate to both of these great characters.
Then there's Emma.  Witty, presumptuous, and independent, in some ways Emma is a bit of an alternate version of Elizabeth, a sort of 'Lizzie Bennet had Lizzie Bennet been wealthy, a different, much smaller family, and been really rather bored'.  Such a distinction in wealth actually does set Emma's character farther apart than any of the other three, in the sense that she doesn't have to worry about the same things – namely, securing a beneficial marriage.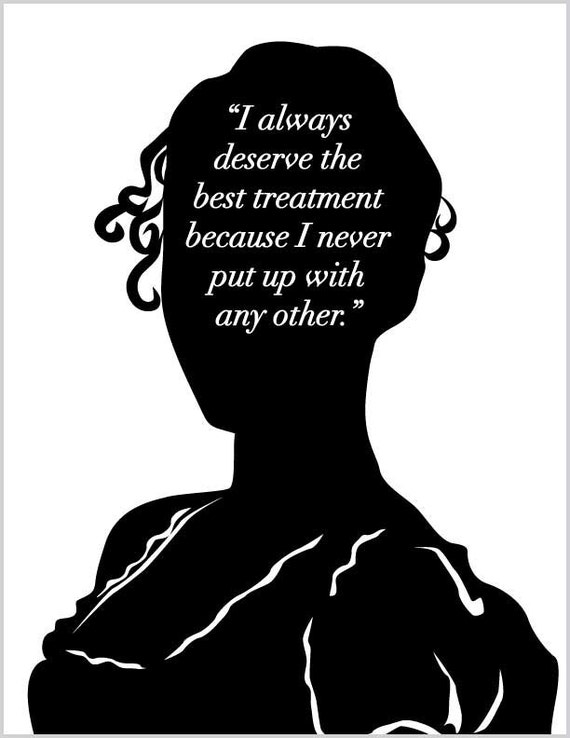 Partly because of this, we're presented with a character less immediately relatable and likable, perhaps, but not dislikable either.  With Emma we have a perfect opportunity to analyze a character and see the good and not so good tendencies in ourselves and otheres.  Why?  Simple – she's real.
Haven't we all secretly played matchmaker before, even if only in our own minds (and sometimes with fictional characters…)?  Haven't we all assumed one thing only to learn it was an embarrassing misinterpretation?  Have you never thought yourself cleverer than somebody else?  Nobody's perfect, we all have flaws that in some ways define us but don't overshadow our best qualities.  But Emma grows as a character from her misgivings and drama so that by the end of the novel, Emma, like Elizabeth, gives us a character we can relate with on a journey of self-discovery (with quite a few laughs along the way).  She's a brilliant character.
Really, what it all boils down to is that Jane Austen was a master at writing realistic characters that appeal to our desire for self-actualization, and continue to be real no matter the time period.  She gives us characters that defy tradition and find their own ways to succeed in a world where they have very little power and influence over their situations.  They're smart, funny, compassionate individuals, and each heroine has a definite sense of self.  So truly, thank you for the strong female characters we can easily relate to, Ms. Austen, I have little doubt that they will continue to be loved for years to come!
You also gave us Mr. Darcy and for that we are eternally gratefully.
More awesome female character appreciation is on the way, but in the meantime I'd love to hear who your favorite Austen heroines are!  Feel free to jump in with the comments below.  And as always, thanks for reading, cheers!  Until then…
Mischief managed