Dear readers,
Seeing as another International Women's Day has come and gone, I was once again inspired to continue the Celebrating Female Characters series with a few new posts!
If you haven't heard of Steven Universe and you're a fan of shows that depict women as complex individuals with unique strengths and motivations, then stop what you're doing and keep reading.  Having recently finished watching the first season (Hulu, when will you have season twoooo?), I am blown away by the depth and charm of this show.
Trust me, it's delightful.
Not only is Steven Universe the first female-created show to debut on Cartoon Network (about time – rock on, Rebecca Sugar!), but much like the Avatar series has done on Nickelodeon it brings a much needed freshness to the traditional cartoon format (t.v. format in general, really).
The show follows the adventures of a boy named Steven and the three humanoid-aliens he lives with called the Crystal Gems (Pearl, Garnet, & Amethyst).  Steven is a half-human, half-gem in training, working to help the Gems protect the world as he comes to inherit the conflicts of their past.  At its core it's a coming of age story and yes, the main character is a male, but this is part of what makes this show so refreshing, serving to strengthen the argument of real female representation.
The Gems
Starting with the obvious, the Crystal Gems are some powerful ladies.  They kick butt!  Each Gem has unique weapons and abilities – all normal features of their kind but which seem like superpowers to us.  Let's dig deeper, though, because their empowerment comes from more than just these awesome powers.
Strong in the Real Way
Pearl is the 'mom' of the group and the most involved in teaching Steven.  She's responsible to a 't', can be neurotic at times, can't stand messes, and loves being right (who doesn't, Pearl, who doesn't?).  But above all else, Pearl is driven by love.  Over the coarse of the first season we learn of this deep love and relationship to Steven's mom, Rose Quartz.  Though Rose Quartz ultimately chose to give her life up in order have Steven with his dad, it speaks the most of Pearl's character that she will do anything to keep Steven safe and to protect him, Amethyst, Garnet, and even Greg (Steven's dad) from harm's way.
Essential Season 1 Pearl Episodes:

Coach Steven, Giant Woman, Space Race, Rose's Scabbard
Made of Love
Garnet is the undisputed leader of the group.  She's calm, collected, and just plain cool.  Though she talks the least she says the most, lending to an air of wisdom and mystery about her.  And while she may be a Gem of few words, she's powerful and carries herself with a strength that radiates from inside out; a self-confidence without ego.  Garnet is balance and harmony, yin and yang, both the masculine and feminine.  Hers is a mix a personality traits I don't often seen attributed to female characters – the 'strong, silent type' – but Garnet owns it and more.  While she may not be as hands-on in training Steven, the two clearly share a special bond and when it comes to Steven just being Steven and she tends to be to most supportive and encouraging Gem.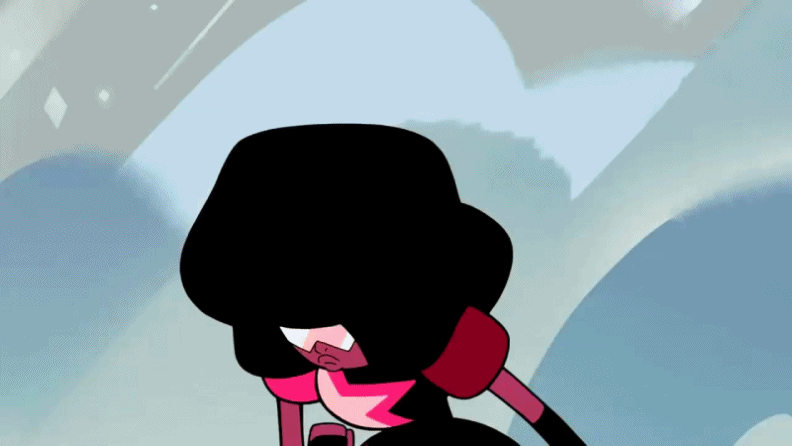 Essential Season 1 Garnet Episodes:

Future Vision, Garnet's Universe, Jail Break
The Wildest Cat in the Jungle
Aside from Steven Amethyst is the youngest Gem, the unruly 'older sibling' type of the group.  Scrappy, wild, and independent, her character helps bridge that gap between Steven/us and Pearl and Garnet, both maturity-wise and backstory-wise.  In some ways Pearl's opposite, Amethyst enjoys making messes, at times being lazy (guilty), and would much rather improvise or rely on brute strength than make a plan.  Although her confidence manifests itself more rambunctiously than Garnet's, throughout the season we see the chinks in the armor which this attitude hides.  It's this self-doubt, even self-loathing at times, about who she is that makes Amethyst real rather than trivial.  While I may relate to her outward personality the least, I can easily empathize with her character.  Sugar and her team have taken a lot care with their cast, and they've done a wonderful job here in creating a such a strong-willed character without getting caught in the one dimensional trap.
Essential Season 1 Amethyst Episodes:

Tiger Millionaire, Giant Woman, On The Run, Maximum Capacity
Isn't it remarkable, Steven? This world is full of so many possibilities.
Though no longer 'living', Steven's mom, Rose Quartz, is very much a character as well as we get to know her little by little through flashbacks and the other characters.  And despite her physical absence, Rose Quartz still manages to protect Steven (think Lily Potter here).
Though you may not guess from her appearance alone, Rose Quartz was the leader of the Crystal Gems and it's her actions from many, many years ago that drives the overarching plot of the show.  As Steven pieces together information about her, it becomes clear that Rose was an exceptional being who led fiercely, loved greatly, and had a deep sense of empathy for all living things.
The Humans
Steven isn't just surrounded by these Gems with incredible powers, and every character in Beach City is given some individual focus throughout the episodes of the first season.  The ordinary human female characters are just as realistic and, in a non-physical, superpower-y sense, just as strong in character as the Crystal Gems.
Connie and Sadie, in particular, are given the most screen time.  Each has a special relationship with Steven.
Though upon her introduction it's clear that Connie is to be Steven's love interest, that's not what their relationship or her purpose in the story is built around.  First and foremost she is a friend and an individual whom Steven looks up to.  Intelligent/nerdy, brave, and responsible, Connie is cool in the face of danger and not afraid to speak her mind.  The episode, 'Open Book' is a prime example of this and how perfectly their relationship is treated in the show.
Sadie is like a big sister to Steven and she really rolls with the punches when it comes to his powers and adventures.  It's  her relationship with her male counterpart, Lars, at the doughnut shop, though, that has the most fun playing around with the idea of 'gender norm' traits.  Stocky, tough, and easy-going, Sadie is constantly pitted as the more traditionally 'male' role in their partnership while Lars is skinny, moody, and overly self-conscious.
This is most obviously seen in the episode 'Island Adventure', but she's not always the one taking charge.  Like the best of us, Sadie can let her crush on Lars get the best of her and become a bit of a pushover to accommodate others, but that's what gives her life and realistic complexity.  And at the end of the day, Sadie always knows and stays true to who she is which, above all, is both strong and kind.
So here's a show that has a male protagonist who has a variety of strong female characters that serve as direct role models.  Unusual, no?
And although this post is to call out the awesome female characters, I'd like to mention the way the male characters are presented as well.  The way they act and react to the female characters, as well as the way they themselves are characterized, plays just as much of a role in what makes Steven Universe such a gender-progressive show.
I think it may best be explained through this post of gifs.  Just as the ladies are complex and detailed individuals, the dudes are treated with just as much care.  They're given their own sets of strengths, quirks, flaws, and motivations with similar freedom from standard gender traits.  Steven and his dad are just as compelling of characters as much as the Gems.
So have you heard enough about Steven Universe now?  If you haven't checked this show out yet, consider adding it to your watch list.  It won't take up much of your time as each episode is only eleven minutes long, but it's an eleven minutes jam-packed with powerful social messages, adorable goofiness, and tons of geeky references.
And if you are a fan, I'd love to hear your thoughts on the gender dynamics of the show – don't forget to comment below!
Thanks for reading, cheers!  Until then…
Mischief managed